Antigua and Barbuda TM Centre, in Dominica - Contact Details
Email
Telephone: 1-767-316-9765 or 1-767-285-8841
Local Teacher: Dr. Lucia John
Address: 30 McIntyre Lane, Goodwill, Roseau, Dominica
View Map
Sign up here for updates on the Dominica Transcendental Meditation Program(R). We will only send you information about TM and invitations when courses and lectures on TM are being held. We never share your information, and you can easily unsubscribe from our mailing list at any time.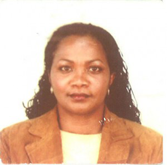 Local Teacher and National Director – Dr. Lucia John
Dr. Lucia John has been a certified teacher of Transcendental Mediation for 32 years. She has a Ph.D. in Vedic Science from Maharishi European Research University. Dr. John is Director of the Maharishi Enlightenment Center and Maharishi Vedic Health Spa in Dominica.
For those already practising Transcendental Meditation
MEDITATORS' MEETINGS: Are held regularly at the centre - please contact us for full schedule.
PERSONAL CHECKING: To refresh your practice and receive more guidance on your TM technique, these one-to-one 30 minute sessions are available by appointment.
REFRESHER COURSES: If you would like to refresh your practice and understanding of Transcendental Meditation, why not sit in again on a course of instruction. Phone or email for details.